The plan seemed sound enough, the weather had been great, and the guys had time to make the run.  It looked like a quick trip to Death Valley was in the cards.  But somewhere between planning and leaving Global Climate Change made its own plans… trumping ours.
The plan called for a 7:30 meet up at the local gas pump.  Shoveling the snow to get the bikes out of the garage was not the start we had hoped for.  Instead of meeting as planned we spent the early hours checking weather forecasts, watching highway cams, and discussing the options. We had a trailer capable of carrying all four bikes but knew if we used it to get south of the weather we would also be committing to returning via the same route instead of the loop we planned.  The remaining option was to make a run for it in between the storm bands indicated on the weather radar.
Two hours late we met up at Scott's and sync'd our headsets, allowing us to discuss how  bad of an idea this was as we headed out… no snow was falling as we left the neighborhood.  Rolling out of the Salt Lake Valley the temps were hovering just above freezing but the roads were dry.  Ten minutes down the road things got wet.  Wet is not a bad thing, typically wet means not frozen – a condition we hoped would continue.
From our morning research we believed the worst of it would be Scipio Pass, not a high elevation pass but always a treacherous area when storms are aloft.  South of this first pass looked good and should be dry.  The ninety minutes of I-15 were fraught with rain, sleet, and snow but nothing was sticking and road remained wet.  Scipio pass was in good shape and not nearly as bad as we had predicted.  The good dry road south of the pass was another thing altogether.  Between Scipio and Beaver things had gotten worse.  The rain turned to sleet and the temps dropped a bit.  The slush that had been accumulating on the windshields was now ice, 1/4″ to 3/8″ of ice actually, but the roads stayed wet.
This is a good time to interject that the individuals responsible for developing heated gear will be nominated for sainthood.  Riding your bike at freeway speeds when the temperature is 29 degrees and the skies are dumping snow while you remain comfortably warm is truly a miracle.
We stopped in Beaver to fill up the tanks and grab a bite of lunch.  Wendy's offered a bit of cover and warmth for 30 minutes, then off we went.  The weather and roads progressively got better as we headed south, next stop Mesquite, NV.  The 60 degree weather and sunshine was a welcome change.  Another fill up and we were off to Las Vegas.
Rolling in the January sunshine on dry tarmac with Vegas only 80 miles away is cause for a smile in your helmet… 30 mile an hour crosswinds quickly erases that smile.  Wind, wind, wind… need I say more?
A quick stop in Vegas for a part turned into a lot longer than expected but finally we were on our way out of town heading north to Pahrump.  As we were leaving Vegas Mike noted that he had a warning light indicating that he had a lamp out on the bike.  Scott observed that it was his low beam, not to worry Scott was packing a spare since having the same problem on the Yellowknife run last year!  Less than five minutes later Scott exclaimed that his lamp warning light had just come on also, guess that spare bulb was no longer available.  A stop at Autozone in Pahrump and 5 minutes of parking lot workshop and we were rolling again.
Darkness set in while we were changing the headlight lamps and we were still 50 miles out.  We got into Death Valley National Park after hours and found a campsite at the Furnace Creek campground.  520 miles of lousy weather can really wear you out.   We set up our tents and had a quick meal compliments of the fine chefs at Mountain House.  Sleep was not far away.
We awoke to 58 degree temperatures, a welcome change from yesterday's tribulations.  While enjoying a quick bite of breakfast a fellow rider stopped by and asked about our plans.  He noted that he had ridden the area on his R1200GSA in the past, but was down to explore the park on his KTM 450 this trip.  He gave us some tips on routes to avoid on the big bikes.  He also mentioned that wherein we only had one day in the park we must ride Titus Canyon, a tip that would prove to be a highlight.   Locked and loaded, we were off to the Visitor's Center to get the lay of the land.
We agreed that we wanted to ride up to Dante's View so it would be our first stop.  By now it was 60 degrees and we had all stowed our heated gear.  The ride up to Dante's View was a great set of twisties which had the temps dropping all the way.  By the time we hit the lookout it was 30 degrees and snowing… we can't win.  The view was fantastic but short lived as we all clambered to get the heated gear back on.
Riding back towards the visitor center we stopped at Zabriskie Point for a short walk and another great view of the famed geological formations.  When we got back around to the main road we headed south a few miles then took a left on the Artist's Loop stopping at the Pallet to snap a few shots.  Again the scenery was amazing with the varied colors and textures of this ancient geology.  The winding road with vertical undulations was also a treat!
Further south down the valley we detoured out to see the Devil's Golf Course.  It looked more like a poorly plowed field with the dried mud churned up knee deep.
A few pics and we were rolling south again towards Badwater Basin, the lowest point in North America at 282 feet below sea level.  It was nice and sunny again, and warm… no more cold.  The tourists were nearly non-existent this day and we encountered very few people as we toured the park.
Heading south again we rolled until hitting the turn off for the West Side Road, a 40 mile dirt road heading north by northwest back up the valley.  This started off great then devolved into mid depth sands and gravels.  Not good terrain for the big bikes, with occasional bouts of the death wobbles.  Ray and mike both dropped their bikes in the sand at different spots… "no speed get offs" resulting in no damage just hurt pride.  The north third of the West Side Road had a much tighter surface and allowed us to make up for some lost time.  Once back to the asphalt Steve took a moment to kiss the tarmac before we headed back to Furnace Creek where we stopped so Scott could empty his spare gas can into his tank.  We took a few minutes to grab a drink and down a power bar before heading north towards Beatty.
Beatty is outside of the park, northeast from Stovepipe wells.  We took the Beatty cutoff to save some miles and missed the Stovepipe Wells area altogether.  On the way to Beatty we passed the turn off to Titus Canyon, our next route, but we needed to gas up in Beatty first.  Once fueled up we headed back and turned Northwest on the Littlefield road.  The road started off a bit sandy making some of us wonder what we had gotten ourselves into, it tightened up nicely after a mile or so.  A couple of more miles up the road it started snowing… again.  The snow was sticking to the dirt road but we still had traction, we decided to keep rolling.
The storm quickly blew past allowing us to relax a bit, especially when we got to the steep downhill sections of packed clay road.  Had this section been wet or snowy we would have been in trouble on the big bikes.  The road and scenery were fantastic as it wound through the beautiful desert foothills.  We stopped at the remnants of the town of Littlefield, a 1920's mining town that was so short lived the US Post Office opened in late 1926 and closed up 6 months later.  Death Valley is littered with similar structures and stories.
From Littlefield it was only a few miles to the entrance of Titus Canyon, a narrow slot type canyon that twists through the range.  The different strata of geological formations were amazing.  The ride was great as it twisted from one tight corner to the next for miles.  Mike was a little too busy looking at the formations and got caught in a soft spot – the sand pulling him to the right ("he's going down" Ray narrated through the intercom), then an overcorrect to the left still being grabbed by the sand ("he's going down" echoed again), then another correction to the right ("he's going down" repeated a third time), at the right edge of the road there was a 10″ windrow of the soft sand… Mike hit it and after a few feet went over ("he's down" was heard).  It took Ray and Steve to help him right the bike due to the soft uneven terrain.  No harm no foul and the team continued through the canyon.
As we exited Titus Canyon darkness was upon us.  There were still several miles of dirt road before we hit the tarmac and headed north.  It was 30 miles to Mesquite Springs where we found a campsite at the campgrounds… it was cold again causing Ray to note it was like a Winter Scout Camp.  Waking in the morning was a treat at 35 degrees.  The Camp Host stopped by with his puppy and noted that it was the coldest morning they had for several months…  with our luck we could have guessed this.  As much as we liked the fine Mountain House food we decided to head to Tonopah, NV for gas and breakfast.
Heading northeast out of the park resulted in a stop at Scotty's Castle for pics.  It was not open this early in the morning so we could not fork over our $15 for the tour, instead we wandered around a shot pics for a few minutes then rolled.  The road within the park was under construction and we had to wait for a pilot car to show up to escort us through the construction zone.  It was still 35 degrees, which would be the high for our day.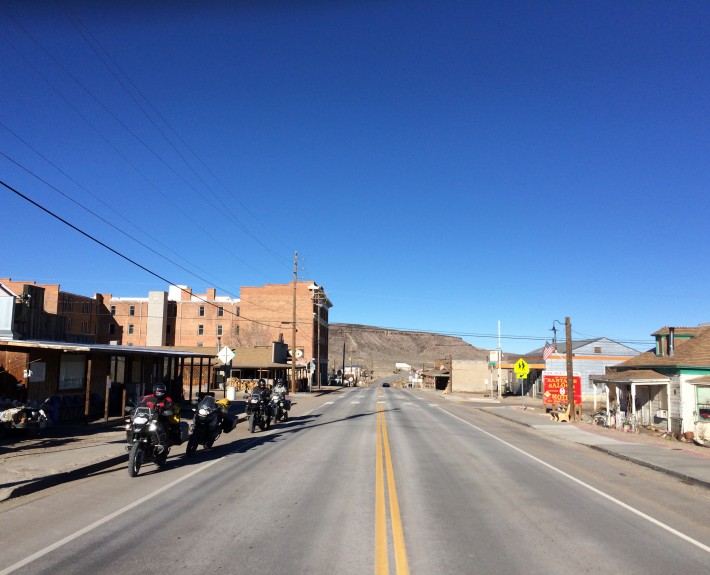 With the pilot car behind us we ratcheted up the throttle a bit and were soon cruising 90 mph along the flat straight desert terrain.  The temps continued to drop and 80 miles later it was 21 degrees in Tonopah.  The fuel stop had a Burger King which provided a few minutes of warmth as we filled our stomachs before heading north east across the state to Ely.  To pass the time we took guesses as to the distance across the valley floors, the white background of snow was deceiving and we were never close on the distances.  We crossed several nice passes with beautiful snow covered views.  Ely had just received a fresh 8″ of snow and the temps were a balmy 23 degrees with slush on some of the roads.  Fuel and roll…
120 miles north we stopped for fuel and food in Wendover where the temperature had improved to a relaxing 30 degrees.  Fed and fueled up we headed for home 140 miles away… miles and miles of straight and boring salt flats leading to Salt Lake where the temperature had reached 32 for the day.  Darkness ensued as we rolled off the last 20 miles looking forward to a warm shower.
Route Map
http://adventuremototouring.com/wp-content/uploads/2014/02/IMG_9599.jpg
2448
3264
admin
http://adventuremototouring.com/wp-content/uploads/2013/07/Adventure-Moto-Touring-logo-final.png
admin
2014-02-01 20:08:58
2014-02-26 23:36:24
Death Valley