This was a very quick trip, which was filled with adventure and unfortunate mishap. Yet, the sights were amazing and it was well worth the struggles. Here are a few of the places we saw along the way:
Bear Lake, UT/ID
Mount Rushmore, SD
Black Hills National Forest, SD
Devils Tower, WY
Bighorn National Forest, WY
Nebraska National Forest, NE
Beartooth Highway, WY
Chief Joseph Highway, WY
Yellowstone National Park, WY
Grand Teton National Park, WY

Jackson Hole, WY
Mike, Steve, Dwayne and myself started by burning up from Salt Lake City, UT to Cody, WY. It was a 12 hour ride from about noon to midnight. We ate some chow in Bear Lake, UT before moving on to Jackson Hole, WY then on through to the Tetons and Yellowstone National Park. I was able to capture a few good pictures of a medium sized black bear in the park, along with a few other tourists. Both parks were not very busy, it was still very early in the year. It was getting dark in Yellowstone and we had a decision to camp or keep rolling. We decided to push on through the night to Cody and snag a motel. It would get us that much further on our route and also a soft bed. We finished the night by eating at Pizza Hut right before they closed. The only place open in town!
The next morning we parted ways with Dwayne, he had to head back for some business. The 3 of us left Cody and headed for Chief Joseph Highway and Beartooth Highway in Montana. These are some of the coolest roads that you will ever ride. They have awesome twisties and incredible views. The Beartooth Highway still had a LOT of snow, so we were riding down roads that had snow drifts on the sides, the height of a tractor trailer! It actually started to snow as we reached the summit. We saw a few other riders coming from the other way and they had rain gear on. Uh oh! After a few pictures, we continued rolling and crossed our fingers that the weather would improve and it did.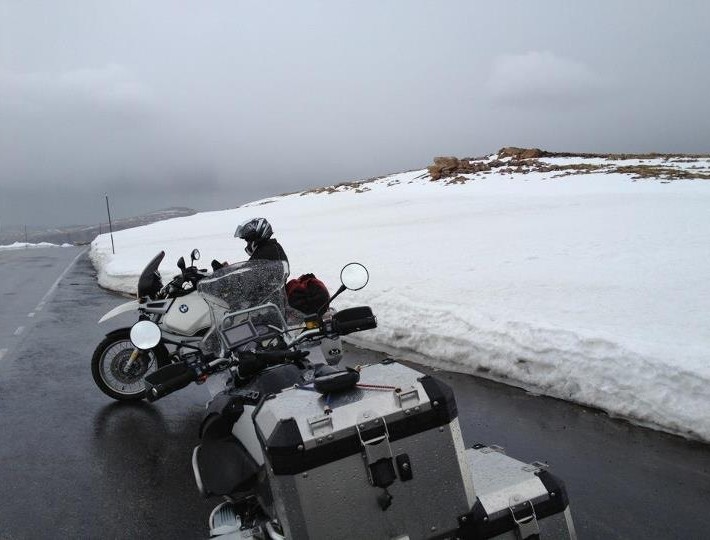 After finishing up on the Beartooth Highway and getting into some better weather, we stopped in Red Lodge, Montana for some lunch at a great little mexican restaurant. Mike happened to notice some oil on the side of his rear tire and that is when the fun began for this trip! He took it apart in a nearby parking lot and called our buddy Ron at the BMW repair shop in Salt Lake City. Ron said the rear bearing in his final drive was going out and he would have to find a way to get the bike home. There was no way to know when the bearing would go out completely and it wasn't worth risking on the interstate. Huge bummer for the trip! We were about 500 miles from home and the only option was to find a U-Haul location and get Mike a truck to haul his bike home in. This was the first major mechanical issue that we had every had on a trip after traveling thousands and thousands of miles. His 1995 R1100GS had served him well to this point with 78,000 miles on the dial. Well, Mike headed back to Salt Lake City and we headed for Gillette, Wyoming to continue the trip. The trip had started with four riders and now it was down to two.
Steve and I woke up the next morning excited to see Devils tower and Mount Rushmore. We headed out early, first stopping at Devils Tower and then through the Black Hills to Mount Rushmore. After spending some time there, we decided to ride through Needles Highway in Custer National Park. We also made a stop in the famous Sturgis, South Dakota! Getting stickers along the way for our panniers.
Steve and I finished the day riding through Nebraska from top to bottom. It was a long, straight, flat and ominous ride. There were a few impressive thunderstorms that we somehow managed to avoid. The road just kept taking us around them, like it was teasing us. We passed a couple towns that looked like they came straight out of a zombie movie. So we gassed up as fast as we could and hit the road! Eventually we found a place to stay in Sidney, Nebraska after a long day on the bikes.
The next morning is when the trip got interesting again! We did get to see all of the landmarks, etc that we wanted to see, but it was not issue free. After we loaded Mike's bike into a U Haul, I never thought that I would suffer the same fate. After spending a night in Sidney we decided to take the 8 hour option (not counting stops) and ride back home via I-80. We both had to be back at work on Tuesday morning. Our original plan was to ride through Colorado, which would have been funner, but it was an 11 hour deal (not counting stops) and this was the final day of the ride. This decision turned out to be a good one.
When we arrived in Sidney the night before, we stopped at the wrong end of town and got some gas from a suspect gas station. Well we thought anyway… We had planned on stopping for fuel in two places on the way home, which would put us home in the late afternoon/early evening. When we got on the road, everything was going fine until my bike started to sputter. I immediately thought it was the gas and that maybe I would be okay. It kept doing it for 10 miles or so and finally died about 200 feet from the exit of a small town. Lucky! It was a town called Pine Bluffs, Wyoming, which is just past the border from Nebraska.
I rolled it down the exit to a gas station. There was a Napa, two gas stations and a couple fast food places. That was the extent of this town. I drained the gas and put in some fresh stuff with no luck. So I called Mike and then Ron at the BMW shop for tips. Ron suggested that if it was in fact bad gas that it might be a plugged fuel filter. Luckily enough Napa had a filter that would work for the 1150 GS and they had it in stock! It was about an hour fix to take off the gas tank and access the filter, which is inside the tank. Unfortunately the new filter didn't work, the bike would not start. So we tried checking the spark plugs, fuel through the injectors and a few other things. Nothing was working after we had spent several hours working in the blazing hot sun and we were nearly 8 hours from home! So I sent Steve to get a Budget rental truck, which was 40 miles away in Cheyenne. When he got back we loaded it up and I followed him home just to make sure the perceived "bad gas" didn't kill his bike too. It didn't and we got home just before midnight.
Having Mechanical issues was a first for me and also Mike. My 2004 R1150GS had 73,000 miles on the clock and it had never before left me stranded. However our bikes were starting to get up there in mileage. When I got home I took the bike to Ron and it turned out being the fuel pump! Dang! It turns out Napa makes a fuel pump that would have worked for the bike and it was right next to the fuel filter that we changed!
*If we would have been traveling with Adventure Moto Touring, we would have had a support vehicle with tools, staff with the know-how to help fix a bike (whatever it may be), room to haul a bike and an extra bike just in case we cant get you back on the road! It gets very expensive when you have to rent a U-Haul and drive it across the country with your bike in the back. Traveling with Adventure Moto Touring gives piece of mind that your trip will not end up like this one.
Route Map
http://adventuremototouring.com/wp-content/uploads/2013/08/IMG_4160.jpg
2448
3264
admin
http://adventuremototouring.com/wp-content/uploads/2013/07/Adventure-Moto-Touring-logo-final.png
admin
2012-07-01 17:41:47
2013-10-28 21:42:00
6 States + 2000 Miles in 4 days